Experience • Integrity • Trust • Responsibility
Suite Set-Ups is a Premier Installer of Commercial Furnishing Systems. We know when we are installing your furniture, we are representing your company, and we don't take that lightly. Whether it's receiving, delivering or installing your furniture we treat it as if it is our own.
Whether it's custom furniture or existing office furniture, let us set up your design so it measures up to your expectations.
Serving Michigan and surrounding areas for over fifteen years, Suite Set Ups is your source for furniture and equipment installation services.
Our installation professionals have completed projects for offices, hotels, health care facilities, laboratories, government agencies and much more.
This wide range of experience in the field has given us the opportunity to successfully solve many installation challenges. With our record of accomplishments, we can confidently assure the success of your project.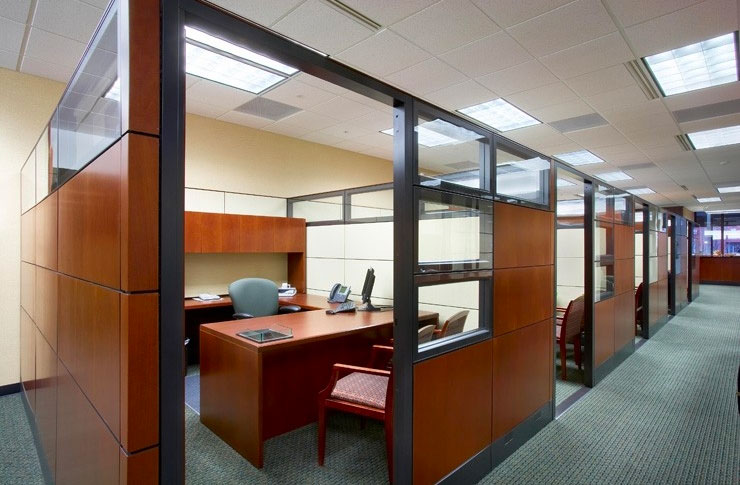 We are committed to providing a high quality service, which means creating a solution to suit our clients, rather than just settling for off-the-peg products. Our people go about their work in a co-ordinate and professional manner, guided by industry association standards. We also pay particular attention to after care, because we realize how important it is for them to realize we are still just a phone call away.
Reconfigurations: Many clients will contact us for help when they want to either expand or downsize. If they are expanding, they may need to add more accommodation to their existing building. Equally if they are downsizing, they may need to merge two offices into one, make alterations to the fabric of the building, and perhaps re-let the surplus to another company. Either way we can help.
New Buildings: We work directly for end users, or more commonly, for main contractors in large building projects. In these cases we may be called upon to do all the partitioning and cabling.
Installation Services
Modular panel systems
Case goods and mill-work
Floor-to-ceiling partitions
Mobile file systems
Shelving and storage solutions
Laboratory furniture
Hospital and health care furnishings
Auditorium and arena seating
Installation, delivery, assembly, and reconfiguration of any modular furniture cubicle system or filing system.
Serving a complete range of businesses, including:
Large and small companies
Financial Institutions
Medical and health care facilities
Federal, state, and local government
Laboratories
Manufacturing
Trust Your Next Job To Us
Suite Set-Ups ability to improvise on the job when something is not quite correct due to a specification or ordering issue on my part is very reassuring. I can count on them to adapt to adverse situations on various furniture installations, and to have the necessary tools with them to implement any remedy needed to get the job done on time to the complete satisfaction of my customers. I truly believe that their efforts have been instrumental in securing repeat business for my company.
Robert M. Bush
I own a Service Disabled Veteran Owned Small Business, Dave is my preferred partner for all the Veteran installations I do in Michigan. He understands the government requirements and regulations which makes my job a lot easier. I know when I give Dave an installation I don't need to worry about quality. He has a very good crew and I recommend them to anyone needing installations needs.
Robert Hobohm
I have been working with Suite Setups for close to 7 years and they continually exceed my expectations. They have routinely gone above and beyond to make my clients happy. Suite Setups employs an excellent group of problem solvers and they never leave my job site until a solution has been implemented. Trust is very important and I don't feel like I need to "babysit" them on the job site. I am very pleased with the level of service that Suite Setups provides me and my clients.
Melissa York
We love Dave at Suite Set ups!! He is always professional and does wonderful installations. His attention to detail is a competitive advantage for our company. Our company is based on client experience and we are always confident Dave will produce the results needed. We highly recommend suite set ups to any dealer partner.
Kathie Fuce-Hobohm
Dave has a working knowledge of the industry and can expect the unexpected and was sure to bring those items up in our weekly project meetings and I know that helped to expedite the project and work within our budget and time restraints. It was even amazing to me how well the crew worked with other teams involved with the project such as the General Contractor, Electrician, Cable Installers, etc. Dave and his team are the most professional, respectful and hardworking crew I have encountered and I look forward to the next opportunity to work with the.
I highly recommend Suite Set Ups for your office modernization solution needs and know you will be very impressed by the level of their work, dedication, and commitment.
Kelly Satterfield